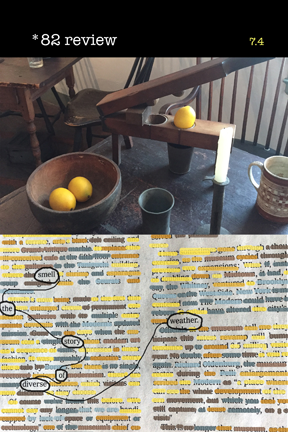 Issue 7.4
Contents
Shorts
Conjuror
Robert Stone. Ways of seeing.
The Crane Brothers in Late Afternoon
Liz DeGregorio. A comedy cure.
Having the Repairman Over
Shaun Holloway. A sort of social call.
The Snake
Linda Lowe. Hidden meanings.
Valentine's Day
Rebecca Minnich. Collective feeding.
Scallops on Credit
Darryl Graff. Characters of New York.
Campout
Rebecca Buller. A makeshift memory.
For the First and Last Time
Wendy Bourke. Making peace.
Flowering Bonsai
Jennifer Woodworth. A curious sort of pet.
Gulmohar
Amita Basu. Dreams and reality.
Hymenoptera
Lindsay Shen. Flying beings in China.
Compost
LuAnne Holladay. Processing life.
Art
dramatic theft of a peanut butter and jelly sandwich
Richard Herring. Painting.
is art birds in boxes?
Richard Herring. Painting.
Jaguars Redux
Geonni Banner. Digital drawing.
growth
Coz Frimpong. Ink and watercolor comic.
hmmmm
Coz Frimpong. Ink and watercolor comic.
combub
Coz Frimpong. Ink and watercolor comic.
Shiro's 2nd Dream
Geonni Banner. Digital drawing.
Hidden Gems
Light Multiplication
John Darr. Between worlds.
Shake the bottle of stars
Laura Garrison. Predicative text poem.
It's easy to find a good time
Laura Garrison. Predictive text poem.
An Eye-Pleasing Assemblage
Gene Twaronite. A found poem from online descriptions of rare books.
Period
Daniel Richman. Reading between the lines.
pi-stash-ee-oh, -stah-shee-oh
Seth Grindstaff. Language and foster children.
Broken Line
Seth Grindstaff. Construction and treasure.
Not Quite Autumn
Martha Christina. Kindness.
Detasseling Corn
Michael Hill. A midwestern childhood.
Lethargy
Jane Costain. Good morning.
Advice
Mark Simpson. Thanks, maybe.
The Thing Her Father Said that Hurt Her
Mark Simpson. Trying to fathom it.
A Possum's Tale
Roger Camp. Varied reactions.
Forever September
Liz DeGregorio. Compassion.
hand of another
ayaz daryl nielsen. A touch.
A Two-Year-Old's First Winter Coat
Steven Pelcman. A question of why.
Il sogno del canguro/Dream of Kangaroo
Marizio Castè and translated from Italian by Toti O'Brien.
Change
Mark Simpson. The odds.
Word + Image
POND
John L. Stanizzi. Two acrostic poems with related image.
©2019 never mind the press and the authors and artists