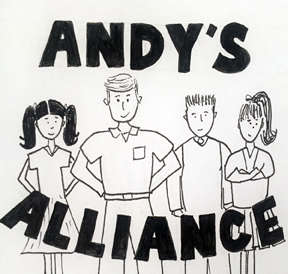 Andy's Alliance
The absence of the Japanese Americans from Emerson Junior High leaves a massive void. Once the winter ends and the weather grows warm again, nearly a third of their classmates are gone. That is when Andy forms the alliance, to stand guard over friendships and memories until their Japanese classmates return.
Andy is the unquestioned leader. He instructs the alliance that any anti-Japanese sentiments must clearly specify the Japanese from Japan and not their missing Japanese American classmates, friends, and neighbors. He assists all of his helpers in their specific duties: the tracker, Seth Stern, the memory keeper, Frida Ramirez, and the seat saver, Victoria Miller.
Seth tracks alliance friends and enemies. He looks for signs that you support the alliance or you stand against it. Anyone who uses the derogative term Jap or Dirty Jap better not be referring the Japanese Emerson students or they'll find themselves standing against the alliance and the fists of Andy Lane and Seth Stern. Matt Erickson reveals himself as enemy number one, but when he shows up to school with a black eye, the other students are put on watch.
Frida is the memory keeper. She writes for the school newspaper, so it is her duty to correspond with classmates who are at Santa Anita or Pomona. She writes and receives correspondences from Japanese classmates at both Santa Anita and Pomona. She provides updates on living conditions and other news and tracks movement of classmates from assembly centers to the relocation camps. She also informs her Japanese classmates of the activities taking place in their absence.
Victoria is the seat saver. She makes sure teachers continue to call the names of missing students and that teaching assistants mark their absence excused on roll sheets. If a new student arrives in class, they are not to sit in a seat vacated by one of their Japanese American friends. Those seats are all saved. Victoria is the one who saves them.
Andy's Alliance is united from afar with their Japanese American classmates: Sat and Natasha and Jenny.
At least that's how Natasha imagines the world they left behind as she draws from the quiet of Santa Anita.
Noriko Nakada
writes, blogs, tweets, parents, and teaches middle school in Los Angeles. She is committed to writing thought-provoking creative non-fiction, fiction, and poetry. Publications include two book-length memoirs:
Through Eyes Like Mine
and
Overdue Apologies
, and excerpts, essays, and poetry in
Kartika, Catapult, Hippocampus,
and
Linden Avenue.