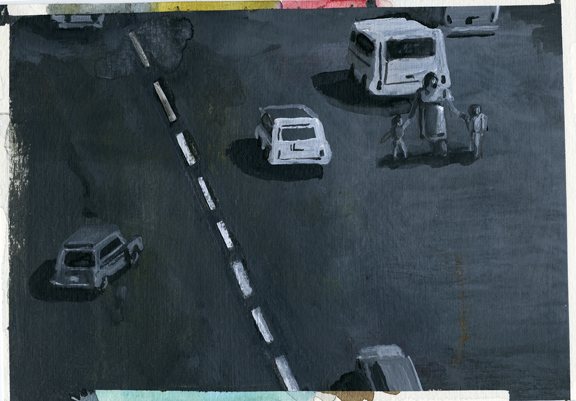 X-ing
Sheldon Walsmith
's work has been published by
The Paris Review,
Knopf, Vintage, Rizzoli Books,
Paris Vogue, Denver Quarterly, Shots Magazine,
Harper Collins,
The New York Times
and others. He has exhibited in New York, San Francisco, Prague, and Austin. The source for "X-ing" is a minute detail of a postcard from the 1940s. Walsmith cancelled an abstract chromatic watercolor with a representational and narrative grayscale acrylic painting. "X-ing" or fording the stream of traffic is also a crossing out—one mode is buried to make way for another. Cropping, reordering and obliterating whole passages of the original image becomes a point of departure and an analogy between process and subject.
www.sheltonwalsmith.com
More work from regular contributor Shelton Walsmith in
Issue 1.3
and
Issue 1.4
and
Issue 1.4 again,
and
Issue 2.2
and
2.3
and
2.4
and
3.1
and
3.2