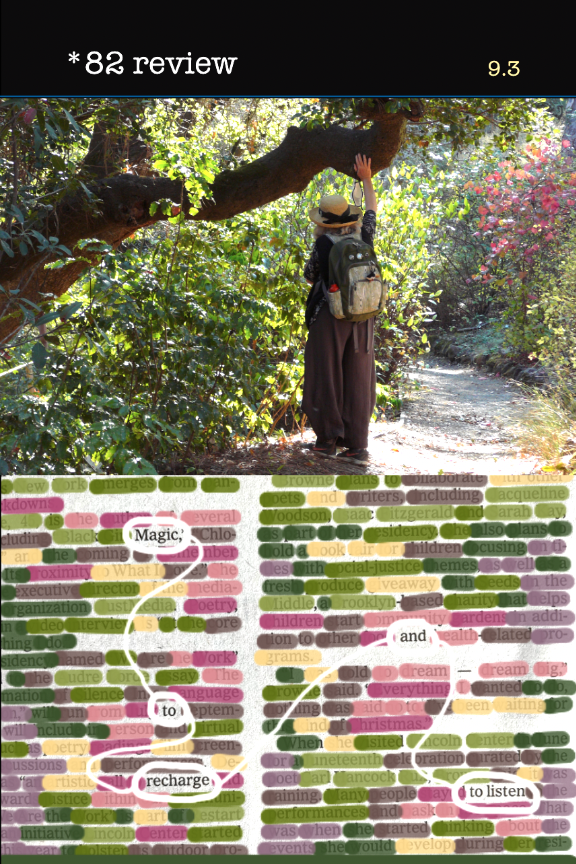 Issue 9.3
Contents
To read the magazine in the mixed genre, sequential print order, start
here.
Shorts
Fracture
Yash Seyedbagheri. At the pool.
Typing Skills
Liz Betz. Working with Dad.
Riches
Yash Seyedbagheri. At the store.
Outside Towner, North Dakota: Summer, 1958
Charles D. Tarlton. Oil rig in a cornfield.
Art
Mashed Potato Squash
David Johnson. Watercolor.
Bathtub Cooler, Armenia
Roger Camp. Photo.
Metamorphoses
Mark Hurtubise. Photo.
Bringing Flowers to Salinas Valley Prison
Felicia Rice. Drawing.
Mendocino 1
Robert Brokl. Pastel on paper.
Guatemalan Masks
Robert Brokl. Painting.
Mirror, abandoned train engine, Lake Sevan, Armenia
Roger Camp. Photo.
Golden Gate
Lynn Newcomb. Black and white print.
Carl Street Apartment
Cara Goldstein. Comic.
Midwest V
Robert Brokl.
Battle Horse
Lynnn Newcomb. Black and red print.
Outdoor Dining Room, Kond District, Yerevan, Armenia
Roger Camp. Photo.
Hidden Gems
Dreams (an abecedarian)
Richard A. Russo. Alphabetically dreaming.
I like to go to the pool when it's raining
Ron Riekki. In between raindrops.
After the Rain
C.V. Blaisdell. Considering earthworms.
As Newport Turns Dark on Me
John Grey. By the water.
My Command Alone
Diane Webster. Humble building.
Canal Poem #3: Breath
Carol Barrett. A landscape.
Through the Shallows
Robin Turner. A mystery.
A Lesson
Martha Christina. Tolerance.
At the Feeder
Martha Christina. Adaptation.
Ode to Truckloads
John Grey. Portrait of sorrow.
Cinder 29
Ray Malone. Contemplating a stone.
Mirror
Ray Malone. Past and present moments.
Cleave
Art Nahill. Double meanings.
In a College Hill Bar
Andrej Bilovsky. Tone of a word.
from Fire
Jaime Robles. Sharing shelter.
To a Big Box Store
Robin Turner. The present in a box.
(Negaunee) In my hometown there was a fence
Ron Riekki. Another hometown.
Erasures
Open Ocean
Santucci. From a February 4, 2021 Associated Press article.
Whatever We Are
Santucci. From a March 28, 2021 article in the
Cleveland Plain Dealer.
Everything in the Forest
Santucci. Inspired by a December 6, 2020
New York Times Magazine
article.
©2021 never mind the press and the authors and artists
order a printed copy here