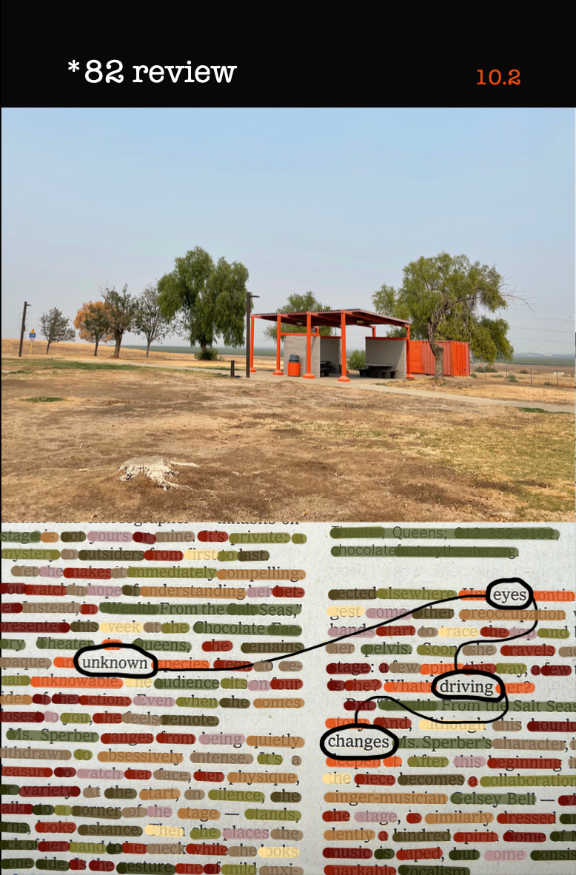 Issue 10.2
Contents
To read the magazine in the mixed genre, sequential print order, start
here.
Shorts
Three Essays on Entropy
Daryl Scroggins. Wordplay and reflection.
In My Desk
Shira Musicant. An eraser connects to memory.
Seashells
Robyn Fisher. Collecting and letting go.
Roommate
Kalila Holt. Losing one's self.
Lights Off
Debbie Hagan. A safari brings awareness.
kisses, freshly minted
Abhirami S. Exchange between mother and child.
Hours, Days, Years
Daryl Scroggins. In another's coat.
For People Who Like to Draw
Mark Foss. Connecting with Mother.
Saudade
Wendy A. Miller. Reaching out to a sibling.
Bambooza
Jennifer Lai. Meeting with a traveler.
Art
slender
Katya Suvorova. Photograph.
dawdlin'
Katya Suvorova. Photograph.
Trees
Margaret Lloyd. Watercolor.
Night's Estate
Margaret Lloyd. Watercolor.
Breaking Through
Margaret Lloyd. Watercolor.
Ghost Bicycle
Phillip Temples. Photograph.
Falafel Corner
Phillip Temples. Photograph.
Hidden Gems
Unclear on the Concept
Jeff Armbruster. A missed date takes a tangent.
this entanglement demands language.
Lorelei Bacht. Navigating a relationship.
De-Icing the Plane
Carol Barrett. Getting ready to start again.
Little Cayman Island
Simona Carini. A place for reflection.
Caught. Lifted.
Martha Christina. Journey of letting go.
Pill Box
Veronica Ashenhurst. An object evokes a connection.
Traveling Hawaii
Micki Blenkush. Imagined travel through a word.
Temporary Homelands
Michael G. Smith. Inevitability of nature.
Soggy on the Carpet
Diane Webster. Between reality and memory.
Driving with Alzheimer's
Diane Webster. Concise understanding.
from The Sleeping Dictionary
Daryl Scroggins. Poetic definitions.
Word + Image
tremor
Karen Donovan. Needing to be heard.
©2022 never mind the press and the authors and artists
order a printed copy here